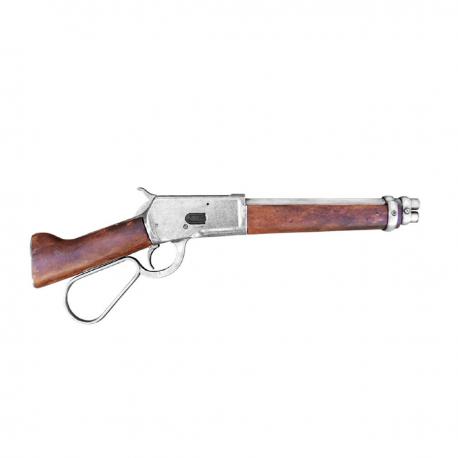  
Denix 1095 Mare's Leg Rifle USA 1892
Denix 1095
Can not be made to fire. For use of collectors, as a beautiful decorative accessory or in theatrical presentations, film making prop, or reenactment.
Complete with wood stock and working lever action
Length: 50 cms.
Weight: 1487 grs.
The Mare's Leg (aka Mare's Laig, with both sometimes spelt without the apostrophe) was the name given to a customized shortened rifle by Steve McQueen's character on the television series Wanted: Dead or Alive (1958–1961) . McQueen's character was named Josh Randall, and the gun has also been referred to as a Winchester Randall, or a Randall Special.
The original Mare's Leg was made by cutting down a .44-40 caliber 1892 Winchester rifle to a size that could be worn in a large leg holster, and wielded one handed. The barrel was cut down to a length of twelve (or possibly nine) inches,[1] and much of the butt-stock was removed. For filming three guns were actually made, each with an enlarged loop on the cocking lever. The first gun differed in the size of its lever enlargement, and the last gun had an octagonal barrel instead of a round one. The actual gun being used could sometimes change from shot to shot in a given scene. While the guns were chambered for the .44-40 round, McQueen wore more impressive looking .45-70 rounds in the loops of his gun belt.

To create such a cut-down rifle, or cut any weapon originally built as a rifle to a barrel length less than 16 inches, is actually illegal without a Class-II manufacturer's permit. However, it is legal to make an exact copy from scratch as a "lever action pistol."[2]

As of the 1980s, one of the original guns was on display at the Fort Spaghetti Restaurant and Museum (999 Ball Road, Anaheim, California).[3]

The gun makes an appearance as the favorite weapon of key characters in a film sequel to the McQueen series, and two later series, that use the weapon as an homage.

The film Wanted: Dead or Alive (1987), starred Rutger Hauer as Nick Randall, the grandson of Josh Randall. Nick keeps his grandfather's Mare's Leg in a display case in his office, and by the end of the film has to make use of it.

The television series The Adventures of Brisco County, Jr. (1993–1994), starred Julius Carry as Lord Bowler, whose weapon is a Mare's Leg.

In the television series Firefly (2002)—and its film sequel Serenity (2005)—Gina Torres plays Zoë Alleyne Washburne, whose weapon of choice is a Mare's Leg. The prop used was the same one created for Brisco County, Jr..

At the beginning of the film, "Once Upon A Time in the West," one of the three gunmen (played by Woody Strode in a silent cameo) sent to kill "Harmonica" (played by Charles Bronson) is armed with a "Mare's Leg."