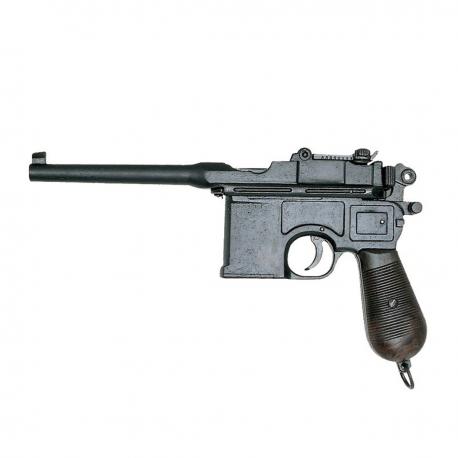  
Denix 1024 Mauser 1898 "Broomhandle" Mauser Pistol
Broomhandle Mauser, 1898, 12-1/2 inches / 32 cms long
This was the first successful automatic pistol used extensively in the first half of the 20th Century. It is a very detailed non-firing replica. It is constructed of die-cast metal and has working action. The site flips up and has an adjustable slide site. The pull-back mechanism Cocks the Hammer and the Trigger releases it. This is a great collectors decorative replica. This was also a favorite of Winston Churchill.
C96 pistol, designed by Mauser. Germany 1896. (World War I & II).
Working action
Weight 1120 grs
Length 32 cms
Metal and synthetic grips.